Kanaal est une transformation d'un ancien site industriel à Wijnegem (une distillerie de spiritueux) en un projet résidentiel à usage mixte.
Expanding the green-blue network
Project by : The real estate department of Axel Vervoordt
Kanaal represents the transformation of an industrial site in Wijnegem (a former distillery) into a mixed-use residential project in which different types of housing are complemented by offices, museum spaces, workshops and an underground car park. Nature is integrated everywhere on the site, on the roofs of the buildings, between the buildings, and even in the underground car park.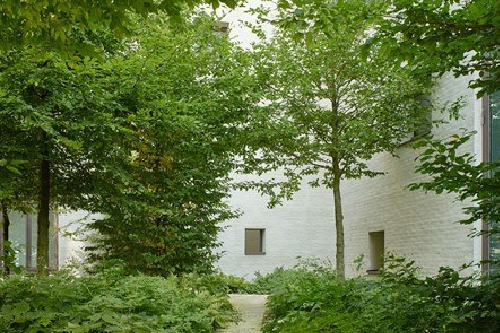 Who is involved?
Le département immobilier d'Axel Vervoordt, avec l'aide de trois équipes d'architectes – Bogdan & Van Broeck, Coussée & Goris, Stéphane Beel – ainsi qu'un paysagiste Michel Desvigne.
Buildings and infrastructures
The new project on the site includes a large number of green roofs (both extensive and intensive) as well as in-ground gardens. 
The total site measures 23,000 m².
In addition to the approximately 7,800 m² of paving, terraces and buildings (excluding green roofs) the site offers: 
± 2000 m² de jardin en pleine terre
±6,200 m² extensive green roofs on buildings
± 3,000 m² intensive green roofs (substrate thickness 80 cm) hosting tall rooftop trees
15 out of 18 buildings have green roofs
Surface verte du parking souterrain: ± 3500 m²
How are the criteria met?
The extensive green roofs and green-blue developments use different species and thus reproduce biodiversity in order to promote biodiversity and integrate environmental and ecological qualities in the best possible way. The green roofs actually create an urban ecosystem. A reed pond completes the green-blue network.Urban rewilding transformed the grey infrastructure (former distillery) into a green-blue living environment.The rewilded area is almost maintenance-free (no mowing, little or no pruning, ...) and drains ALL rainwater via an aquifer to the phreatic groundwater table. Consequently, the green management is mainly natural and therefore beneficial for the biodiversity of the area.
Benefits
The commitment to green-blue systems and networks is an urban ecosystem in itself.  The landscaping, i.e. the vegetation, is biodiverse and accommodates additional fauna.  At the same time, the project contributes to a number of important changes for society. It proves that you can live qualitatively in a former industrial brownfield. It also shows that very high building density goes perfectly with lockdown-compatible living near biodiversity, promising peace, quiet and privacy. In addition, this development project contributes to combating the phenomenon of heat islands and soil sealing in urban areas. It also helps to purify the air, thanks to the proximity of vegetation.
Other projects linked to the objective "Buildings and infrastructures"